All shows begin at 7:30pm, doors at 7, unless otherwise specified.
27 North Road, Peace Dale,RI (Important: Peace Dale is in South Kingstown, if GPS gives you trouble)
Tickets available online at Brown Paper Tickets, and any remaining tickets will be sold at the door.
Saturday, May 16- An Evening with David Lindley



David Lindley, a practitioner of practically all things strings, effortlessly combines American folk, blues, and bluegrass traditions with elements from African, Arabic, Asian, Celtic, Malagasy, and Turkish musical sources. Lindley incorporates an incredible array of stringed instruments including Kona and Weissenborn Hawaiian lap steel guitar, Turkish saz and chumbus, Middle Eastern oud, and Irish bouzouki. He performed alongside Jackson Browne for many years, has worked with artists as diverse as Linda Ronstadt, Ry Cooder, Hani Naser, Dolly Parton, Henry Kaiser, Andreas Vollenweider and many more. The eye-poppingly clad "Mr. Dave's" uncanny vocal mimicry and demented sense of humor make his onstage banter a highlight of the show. We at Lily Pads are very pleased to welcome David Lindley, a real American master, to our stage in Peace Dale.

Saturday, May 23- Peace Dale Hurdy Gurdy Palooza with the Jobe Redfearn Ensemble and Shamanic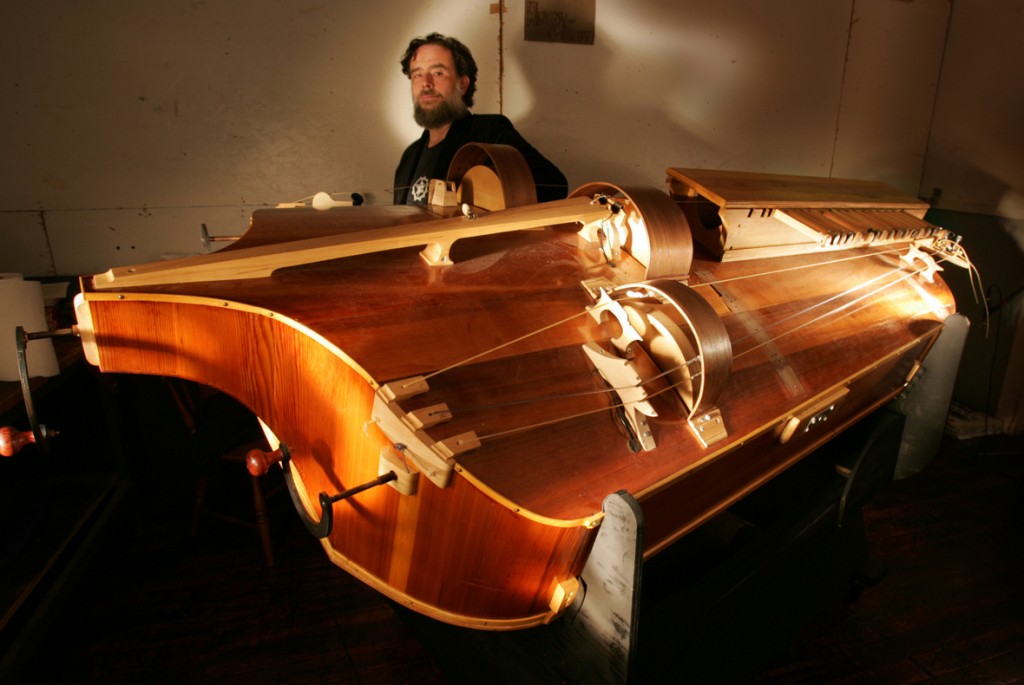 The Jobe Redfearn Ensemble brings together the aesthetics of two
contrasting but complementary composers: Steven Jobe and Alec Redfearn.
Jobe spends most of his time writing operas, his most recent work being
"The Legend of the Fairy Melusine." Redfearn, leader of the band The
Eyesores is recognized on both sides of the Atlantic for his prolific
originality. The Ensemble features colorful instrumentation — accordion,
violin, viola, cello, hurdy-gurdy, string bass and percussion — performing
music that is eclectic and extremely hard to classify, the influences too many
to name.
The Ensemble will at times expand the core sound with the addition of some
of Jobe's experimental instruments such as his large-scale hurdy-gurdies: the
seven ft long Drone Machine and the ten ft Bosch Hurdy-Gurdy. The results
can range from an atavistic sonic experiment to a primal hypnotic wave.
The Jobe/Redfearn Ensemble simply needs to be heard to be believed.

Saturday, June 6- Patrick Sweany with special guest Tyler-James Kelly
Patrick Sweany likes the spaces in between.
On a given night (or on a given album) he'll swing through blues, folk, soul, bluegrass, maybe some classic 50s rock, or a punk speedball. He's a musical omnivore, devouring every popular music sound of the last 70 years, and mixing 'em all together seamlessly into his own stew. Yet, the one thing that most people notice about Patrick isn't his ability to copy – it's his authenticity. Like his heroes, artists like Bobby "Blue" Bland, Doug Sahm, Joe Tex, Patrick somehow manages to blend all of these influences into something all his own.
It's no wonder that as a kid he immersed himself in his dad's extensive record collection: 60s folk, vintage country, soul, and, of course, blues. Patrick spent hours teaching himself to fingerpick along to Leadbelly, Lightnin' Hopkins, and other folk-blues giants.
In his late teens, Patrick began playing the clubs and coffeehouses around Kent, OH. He quickly gained a reputation for the intricate country blues style he was developing: part Piedmont picking, part Delta slide – with an equally impressive deep, smooth vocal style.
After 4 critically acclaimed CDs (two produced by longtime collaborator Dan Auerbach of The Black Keys), Patrick has expanded his touring radius to 49 states and the UK. He's played premiere festivals all over the U.S., and supported national acts such as The Black Keys, The Gourds, The Wood Brothers, Wayne Hancock, Hot Tuna, and Paul Thorn on tour.
Tyler-James Kelly: "When your father plays this odd collection of records throughout your foundation years and at the age of five plants a guitar in your lap, you might be affected. Since then music has always been a euphoric experience to me. Hearing my father crank Jimi Hendrix's Star Spangled Banner as loud as possible was overwhelming and eye-opening. Sometimes I would want to really listen to the music and ask him to turn it down. He would reply, "If it's too loud, you're too old."
Two guitar masters that complement each other perfectly. We welcome Patrick Sweany for the first time, and welcome back Tyler-James Kelly, returning after his triumphant appearance at Lily Pads in 2013, with his band The Silks.

Saturday, July 18–The Jeremy Kittel Trio
Saturday, Sept. 12–Tim Eriksen and Cordelia's Dad with The Vox Hunters (our 5th Anniversary show!)
Saturday, Oct. 10–The Becca Stevens Band
Saturday, Oct. 24- Claude Bourbon –fingerstyle guitar wizard playing Medieval and Spanish Blues
Saturday, Nov.7–An Evening with The Gnomes
Come out and help us celebrate our fifth year!
Please check back for additional listings.