All shows begin at 7:30pm, doors at 7, unless otherwise specified.
27 North Road, Peace Dale,RI (Important: Peace Dale is in South Kingstown, if GPS gives you trouble)
Tickets available locally at Sweet Cakes, the Alternative Food Co-op, and Looney Tunes II in Wakefield, and online at Brown Paper Tickets.
Jammin' Divas show Sunday, Feb. 8 was postponed due to weather! New date is March 8! Thanks and be safe! Come on, spring!
Sunday, February 22
The Atwater-Donnelly Band– 4pm show! Day of show update: The show is on! Doors at 3:30





A special Sunday afternoon with Atwater-Donnelly at Lily Pads!

The award-winning Atwater-Donnelly Band performs a unique
and thrilling blend of traditional American and Celtic folk music
and percussive dance. Rhode Islanders Elwood Donnelly, Aubrey
Atwater, Cathy Clasper-Torch, and Kevin Doyle blend gorgeous
and unusual vocals and play guitar, Appalachian mountain dulcimer,
violin, cello, mandolin, tin whistle, harmonica, banjo, bones, spoons,
limberjacks, djembe (African drum), and other surprises including
Appalachian clog dancing, Irish step-dance, French Canadian
footwork, and American Tap Dance.

The performance is appealing to all ages and with a relaxed and
hilarious stage presence, Aubrey, Elwood, Cathy, and Kevin explain
song, instrument, and dance origins to give more relevance to the
material. Separately and together, these four performers have
won numerous awards and produced many CDs, books, and videos
which will be available at the performance. They have performed
throughout the United States and beyond and their recordings
receive international airplay. Join these four on a joyous foray
into the old folk traditions and enjoy the comedic chemistry of
good friends. To learn more, visit www.atwater-donnelly.com

Sunday, March 8, 7pm – An Evening with The Jammin' Divas featuring Aoife Clancy
Doors 6:30, Music begins at 7pm!


Our homecoming show, features stunning voices from Israel, USA, Ireland and Australia coming together to perform traditional and contemporary ORIGINAL music from their culture.
Aoife Clancy (Ireland)-Vocals, Guitar, Bodhran
Nicole Zuraitis (USA)- Vocals, Piano
Hadar Noiberg (ISR)- Flute, Bass,
Backing Vocals
Kath Buckell (AUS)- Vocals, Guitar, Minor Percussion
Aoife Clancy is the daughter of Bobby Clancy of the Clancy Brothers. Aoife has had a long-standing career touring with the likes of The Clancy Brothers, Christy Moore, Tommy Sands and many others. In 1995, Aoife was asked to join Cherish the Ladies. For the past four years, Aoife has toured extensively doing no less than two hundred dates a year throughout the United States and Europe. Now with seven recordings under her belt in the last decade, Aoife has clearly established herself as one of the 'Divas' of Irish and contemporary Folk Music. With her voice and musical artistry joined with that of Nicole, Hadar and Kath, it's a recipe for a rich and exhilarating night of music.
Saturday, March 14, 7:30pm
Dylan Sevey and the Gentlemen/ The Horse-Eyed Men

Smart indie rock from two Rhode Island bands. It's the night of two Dylans! Don't miss this.

Dylan Sevey is originally based out of Wakefield, Rhode Island. While he has been active for many years as a drummer in various local bands, he has also always crafted his own songs behind the scenes.

The Gentlemen are responsible for bringing these songs to life. David Ponte plays tasteful lead guitar. Brendan Moore creates incredible atmosphere with his keyboards. Steve Ellis is the quintessential rock solid bassist. Keaton Albro has established himself as the perfect drummer for the group.

The band creates their sound by exploring many different musical avenues and blending them together with remarkable cohesiveness.The Gentlemen create a sound that is diverse and unique, and has something for everyone.

Their 2013 debut album, "Join The Club," found the group "sounding wise beyond their years" (Chris Conti, The Providence Phoenix). John Fuzek from Motif Magazine added, "Join The Club…is chockfull of tasty tunes and is one of the best locally produced CDs I have heard in a long time." Tony Pacitti in East Side Monthly, called the album "a sonic quilt of country ballads, sleazy bar band blues and classic folk-rock that borrows from the likes of The Band, Bob Dylan and the White Stripes." The record caused Rob Duguay from 990WBOB.com to rave: "Make sure you get their debut album and give it a listen, it's some of the best music from a band that is sure to go places."

Joining Dylan and the Gentlemen are The Horse-Eyed Men. The Horse-Eyed Men are Noah and Dylan Harley,two brothers who play original disgruntled Americana and country. Raised by musical humans in a former candy store outside of Providence R.I., their music mixes spaghetti-western themes with cabaret, ragtime, and post-partum punk. Grave Country, their latest record, was recorded in Copenhagen on a grant from the Danish Arts Council in the summer of 2013
Saturday, March 28 – Ellis Paul with special guest Rebecca Loebe
We are thrilled to welcome back the great Ellis Paul.
"Despite his success and sense of history, Mr. Paul remains an artist with his eye on the future and an interest in discovering the transformative potential in his music." – The New York Times
Some artists document their lives through their music. Others chronicle their times. It's a rare artist who can do both, telling their own story through songs that also encapsulate the essence of people and places who have helped define their era overall. Woody Guthrie comes to mind, and so does Bob Dylan. Bruce Springsteen certainly as well. Yet few others, for whatever genius they may possess, can relate their own history to the history experienced by those who find that common bond, be it in a coming of age, living through the same realities or sharing similar experiences.
Ellis Paul is one of those gifted singer/songwriters.Though some may refer to him as a folksinger, he is more, for lack of a better word, a singular storyteller, a musician whose words reach out from inside and yet also express the feelings, thoughts and sensibilities that most people can relate to in one way or another, regardless of age or upbringing. The exhilaration of the open road. A celebration of heroes. The hope for redemption. Descriptions of those things that are both near and dear. The sharing of love…, intimate, passionate and enduring.
These are the scenarios that emerge from Ellis Paul's new album, Chasing Beauty, a set of songs which detail, in typical Paul fashion, stories of people and places that reflect larger truths about us all. "Kick Out the Lights (Johnny Cash)" pays tribute to that fearless American icon name-checked in its title. "Plastic Soldier" offers homage to a wounded soldier returning from Afghanistan. A real-life barnstorming pilot takes the spotlight in "Jimmie Angel's Flying Circus," while iconic Boston blue collar musician Dennis Brennan takes the focus in "Waiting on a Break." Even the Empire State Building and the Boston Red Sox get their due, via "Empire State" and "UK Girl (Boston Calling)," respectively.
In reality, these stories are a continuation of tales Paul has told for more than a quarter century, over the expanse of nineteen albums, numerous critical kudos (15 Boston Music Awards alone), inclusion in several movie soundtracks, and stages he's headlined both near and far. "I've got a car with over 475,000 miles on it, and it's my third road vehicle," Paul declares. "I've been doing 200 shows a year for over twenty years. There isn't a town in the country where I won't find a friend. I'm a nomad. And I'm gonna write and play until I'm gone."

Fine young singer/songwriter and The Voice finalist Rebecca Loebe opens the evening. This will be a very special night.

Sunday, April 12 – from Quebec–Le Vent du Nord–outstanding live band pushing traditional music in new directions
Deep history and playful innovation. Quebec's Le Vent du Nord knows how to turn the lost past into intense and beautiful performances that push their roots in striking global directions. The group is blazing a path that connects their Québecois roots to the wider world, in both arrangements and on stage.
Considered a driving force in progressive folk, Le Vent du Nord captures the energy and mirth of a Saturday night kitchen party, infusing old Québec with a breath of fresh, cosmopolitan air.
Since its founding in 2002, Le Vent du Nord have become compelling Francophone ambassadors, winning critical acclaim and audience adoration across Europe and North America. The quartet has performed well over 1,000 concerts, racking up several prestigious awards, including a Grand Prix du Disque Charles Cros, two Junos (Canada's Grammys), a Canadian Folk Music Award, and 'Artist of the Year' at the North American Folk Alliance Annual Gala.

Saturday, April 18 – Ursula George–Blues and Jazz of the pre-war era of Black Vaudeville

Early Black Vaudeville jazz and blues from the 1920s and 30s, performed by a six-piece band featuring Lori Urso and Marty Richard.
The black musicians and composers of the vaudeville era influenced what is now known as American musical comedy, jazz and Broadway musical theater. The popular music of the time is ragtime, consisting of the piano and banjo. Ragtime was developed from black folk music.
Ursula George have packed them in at Chan's, the Towers, the Courthouse Center, and other venues around the region. Now it's our turn to swing.

Saturday, May 23- Peace Dale Hurdy Gurdy Palooza with the Jobe Redfearn Ensemble and Shamanic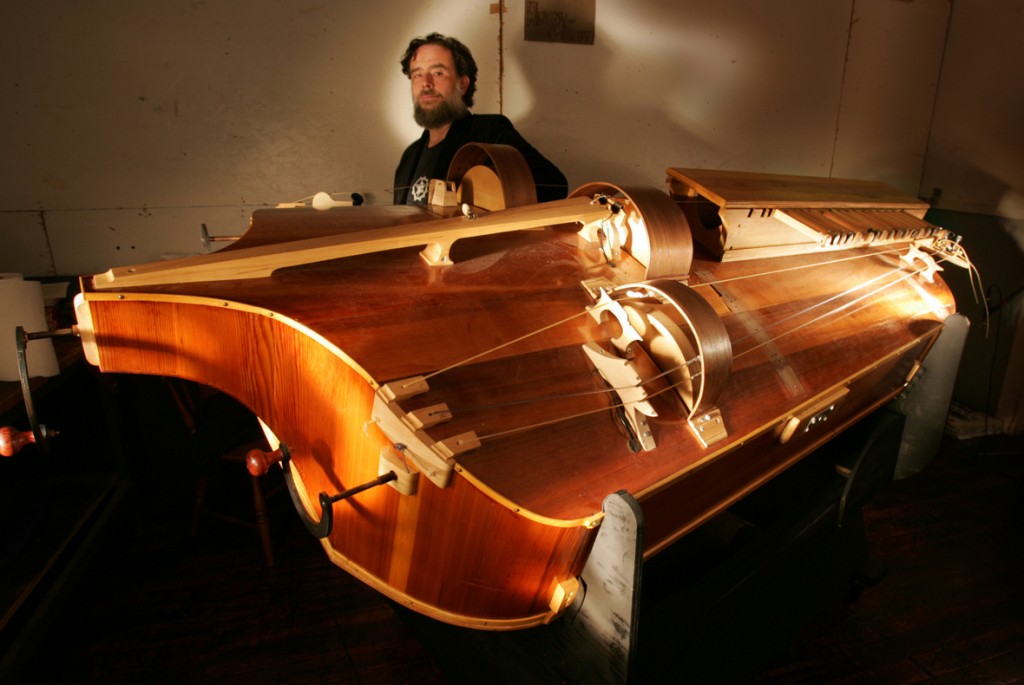 The Jobe Redfearn Ensemble brings together the aesthetics of two
contrasting but complementary composers: Steven Jobe and Alec Redfearn.
Jobe spends most of his time writing operas, his most recent work being
"The Legend of the Fairy Melusine." Redfearn, leader of the band The
Eyesores is recognized on both sides of the Atlantic for his prolific
originality. The Ensemble features colorful instrumentation — accordion,
violin, viola, cello, hurdy-gurdy, string bass and percussion — performing
music that is eclectic and extremely hard to classify, the influences too many
to name.
The Ensemble will at times expand the core sound with the addition of some
of Jobe's experimental instruments such as his large-scale hurdy-gurdies: the
seven ft long Drone Machine and the ten ft Bosch Hurdy-Gurdy. The results
can range from an atavistic sonic experiment to a primal hypnotic wave.
The Jobe/Redfearn Ensemble simply needs to be heard to be believed.

Saturday, June 6- Patrick Sweany
Saturday, Oct. 24- Claude Bourbon –fingerstyle guitar wizard playing Medieval and Spanish Blues
Come out and help us celebrate our fifth year!
Please check back for additional listings.